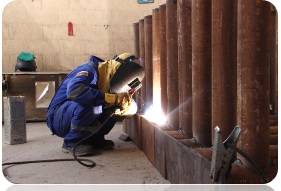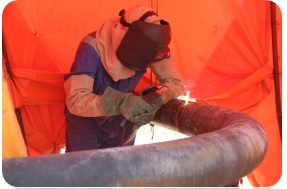 Dant Najd deliver top quality fabrication services and installation, modification and maintenance of mechanical service piping system in Oil and Gas Sector throughout Oman. Dant Najd in involved in fabrication and installation of various oil wells and water injection wells. Dant Najd carries out welding and fabrications in the Oil & Gas field sites all over Oman.
In Dant Najd all welding and fabrications are done with strict adherence to tested and proven procedures and standards in line with industrial statutory regulations. Our unique workforce in this area include qualified engineers and technicians with proven track record and competence.
Our range of projects delivered include Piping and Pipeline jobs for Oil and Gas Sector different oil fields of Oman. We specialize in TIG and MIG Welding. Dant Najd specializes in production hook-up services oil wells, oilfields and pipelines and fabrication and installation work in oil-wells water injection wells.
We carry out Engineering Construction and maintains service in different regions all over Oman. Some of the sites where Dant Najd have been working over last few years include  Qarn Alam , Lekhwair , Yibal , Fahud, Daleel in North Oman. We currently have over 60 Employees working on these contracts and have laid over 150 Flow-line replacement comprising 1200+ km.  
Our Construction service include Fabrication, Installation, Modification, Repair,  Testing, Inspection, Removal, Demolition of crude oil flow-line water injection lines including pipe work and fitting in a variety of materials. This includes everything from tie-in at Station/ Manifold/ MSV/ Flow-line to the Tie - in at the well-head.